07 January 2022
2022 Trends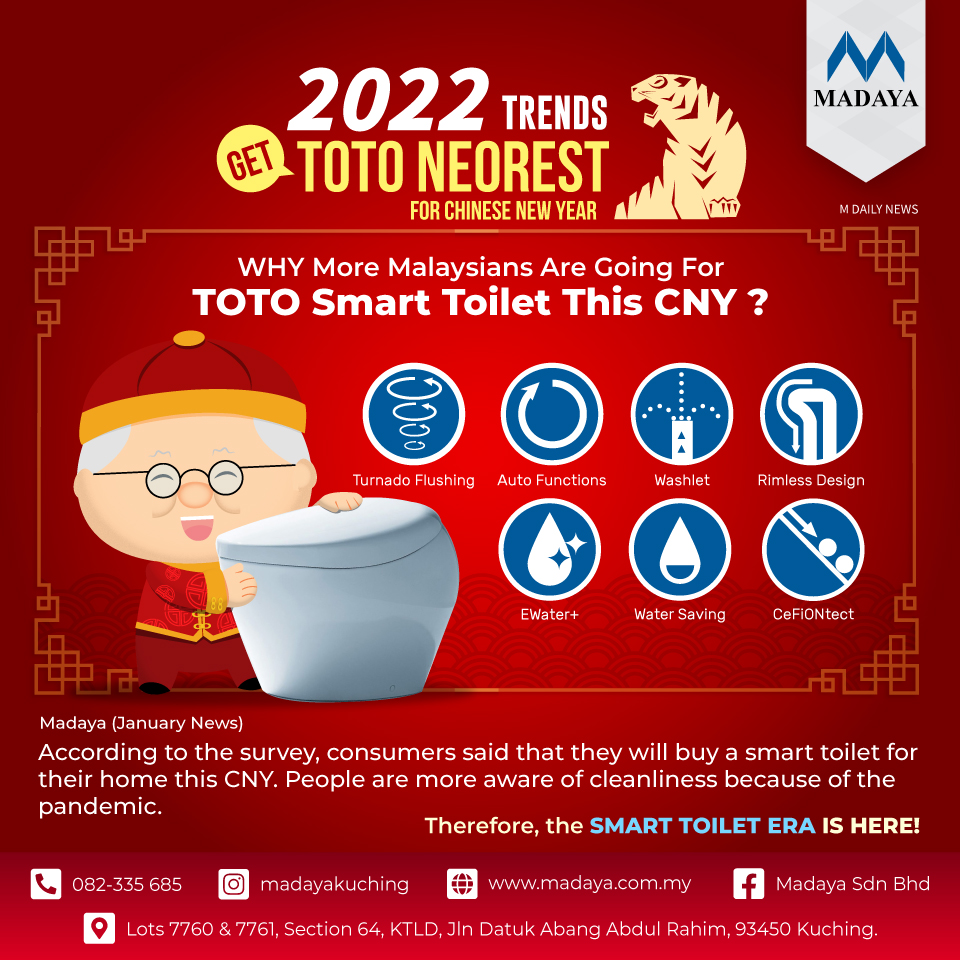 Get TOTO NEOREST For Chinese New Year
𝗧𝗢𝗧𝗢 𝗡𝗘𝗢𝗥𝗘𝗦𝗧 Technologies promote
#cleanliness
and
#comfort
while keeping your bathroom pristine and hygienic after each use. As people are more aware of cleanliness because of the pandemic.
𝗧𝗢𝗥𝗡𝗔𝗗𝗢 𝗙𝗟𝗨𝗦𝗛
utilises powerful streams of water that merge and swirl 360 degrees around the toilet bowl, thoroughly washing away dirt and waste.
It 𝘂𝘁𝗶𝗹𝗶𝘀𝗲𝘀 𝗹𝗲𝘀𝘀 𝘄𝗮𝘁𝗲𝗿 compared to conventional flushes, saving on your water bill while preserving the environment.
𝗖𝗲𝗙𝗶𝗢𝗡𝘁𝗲𝗰𝘁 makes your toilet super smooth and ion barrier glazing cleans the toilet bowl with every flush to provide more hygiene.
𝗪𝗔𝗦𝗛𝗟𝗘𝗧 makes you no more wiping to improve hygiene.
𝗥𝗜𝗠𝗟𝗘𝗦𝗦 𝗗𝗘𝗦𝗜𝗚𝗡 makes your toilet bowls not have any difficult-to-reach places in which dirt and bacteria can accumulate.
𝗔𝘂𝘁𝗼 𝗙𝘂𝗻𝗰𝘁𝗶𝗼𝗻 allows you to automatically open and close the toilet lid without touching. In addition, auto flush and auto sensors for every use.
Now You can feel the special experience at our Showroom!!
==
Madaya (Kuching)
Address: KTLD, Lot 7760 & 7761, Section 64, Jalan Datuk Abang Abdul Rahim, 93450 Kuching, Sarawak.
Google Map:
shorturl.at/mrOW1
WhatsApp:
www.wasap.my/60165797761
www.wasap.my/60165787760