03 December 2021
Alpha Storage Water Heater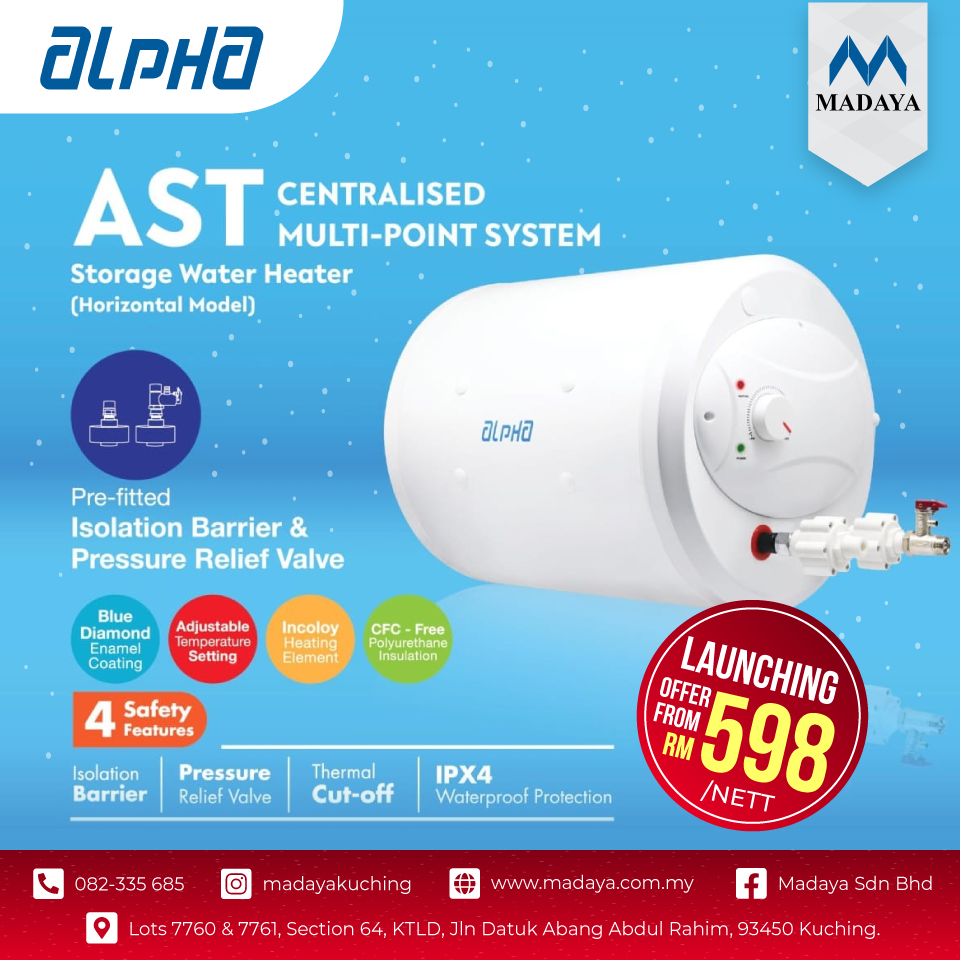 You can enjoy 【hot water】
at every tap of your home for 【bath, cooking or washing.】 𝗔𝗹𝗽𝗵𝗮 𝗘𝗹𝗲𝗰𝘁𝗿𝗶𝗰 𝗦𝘁𝗼𝗿𝗮𝗴𝗲 𝗪𝗮𝘁𝗲𝗿 𝗛𝗲𝗮𝘁𝗲𝗿 is specially designed to 【supply and store】 your hot water with maximum efficiency and reliability.
Alpha Electric Storage Water Heater 【saves space and money】. It can be 𝗲𝗮𝘀𝗶𝗹𝘆 𝗶𝗻𝘀𝘁𝗮𝗹𝗹𝗲𝗱 𝗮𝗻𝗱 𝗰𝗼𝗻𝗰𝗲𝗮𝗹𝗲𝗱 𝗶𝗻 𝘁𝗵𝗲 𝗰𝗲𝗶𝗹𝗶𝗻𝗴 to save space.
Incoming water is directed through the heater for heating. 𝗘𝘅𝗰𝗲𝘀𝘀 𝘄𝗮𝗿𝗺 𝘄𝗮𝘁𝗲𝗿 is 【stored in the stainless steel heater tank】. Its centralized multipoint system provides you with hot water at every tap. So, with Alpha Electric Storage Water Heater, you can 𝗲𝗻𝗷𝗼𝘆 𝗵𝗼𝘁 𝘄𝗮𝘁𝗲𝗿 𝗮𝗻𝘆𝘁𝗶𝗺𝗲, 𝗮𝗻𝘆𝘄𝗵𝗲𝗿𝗲 with simply more cost saving.
Anti-Rust Epoxy Coated Casing
CFC-Free PUF for Maximum Insulation, Keep Warm up to 8hrs
Fitted with Isolation Barrier
Triple Safety System: Pressure Relieve Valve, Thermostat Cut-Out at 70°C, Thermal Cut-Off at 95°C
The important things is now you can enjoy
Free Delivery (within 10KM Kuching)
==
Madaya (Kuching)
Address: KTLD, Lot 7760 & 7761, Section 64, Jalan Datuk Abang Abdul Rahim, 93450 Kuching, Sarawak.
Google Map:
shorturl.at/mrOW1
WhatsApp:
www.wasap.my/60165797761
www.wasap.my/60165787760