22 March 2021
World Water Day Promotion 2021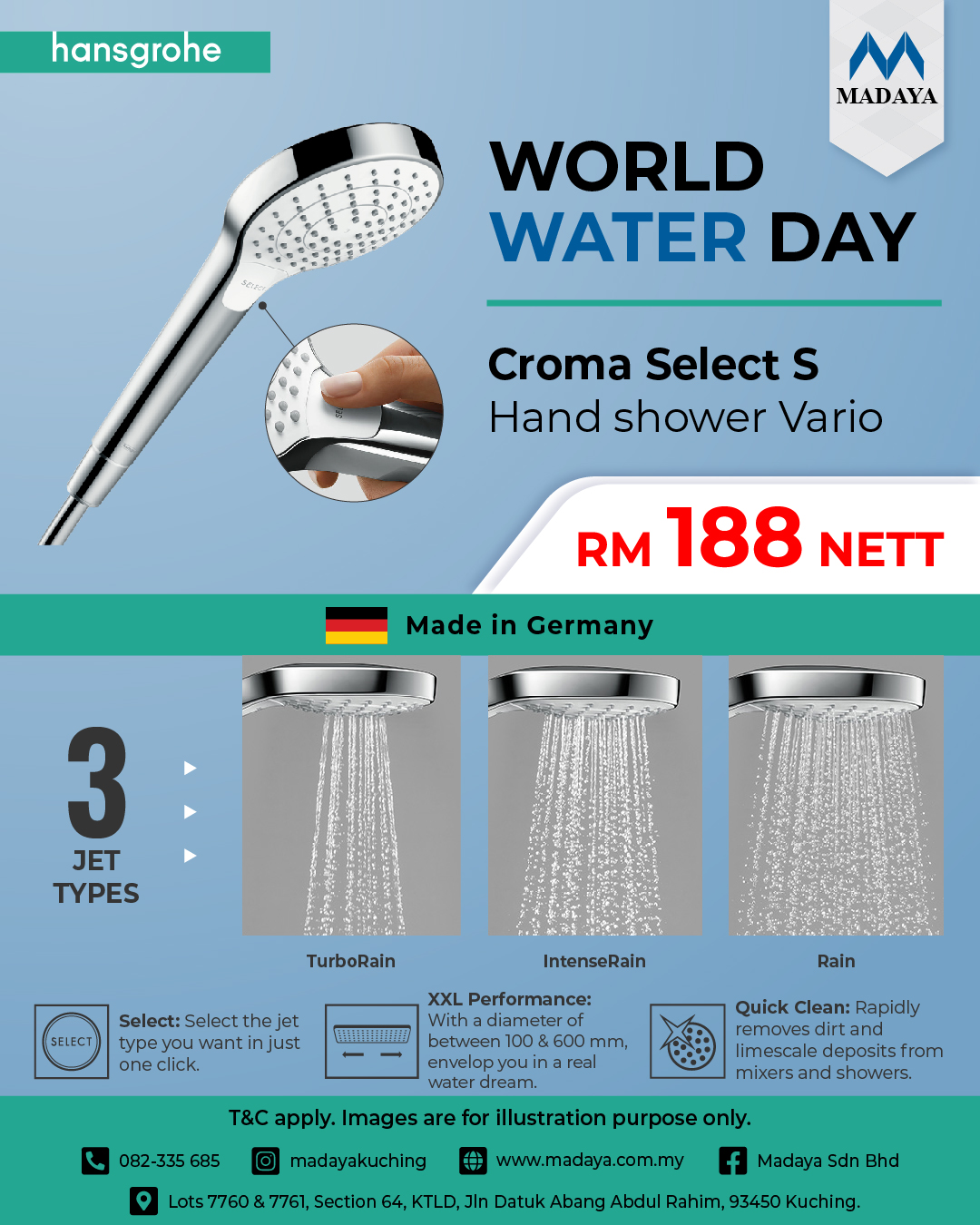 Are you still wasting water
Using water more efficiently will reduce greenhouse gases
Why choose Hansgrohe Croma Select S Hand Shower Vario
#TurboRain
Intensive shower rain that refreshes and rejuvenates.
#IntenseRain
Intense water spray, perfect for rinsing. out shampoo.
#Rain
Perfect for rinsing shampoo out of your hair.
It also allows selection from three jet types at the touch of a button: for 𝐫𝐞𝐥𝐚𝐱𝐢𝐧𝐠 𝐟𝐮𝐥𝐥, 𝐢𝐧𝐭𝐞𝐧𝐬𝐞 𝐨𝐫 𝐢𝐧𝐯𝐢𝐠𝐨𝐫𝐚𝐭𝐢𝐧𝐠 𝐬𝐡𝐨𝐰𝐞𝐫𝐢𝐧𝐠 𝐩𝐥𝐞𝐚𝐬𝐮𝐫𝐞. With practical
#QuickClean
technology, it can 𝐫𝐞𝐝𝐮𝐜𝐞 𝐲𝐨𝐮𝐫 𝐰𝐚𝐭𝐞𝐫 𝐜𝐨𝐧𝐬𝐮𝐦𝐩𝐭𝐢𝐨𝐧 without compromising your showering performance.
While Stock Last
Grab it Now
【To Improve the Environment Go Waterless】
Address: KTLD, Lot 7760 & 7761, Section 64, Jalan Datuk Abang Abdul Rahim, 93450 Kuching, Sarawak.
Google Map:
shorturl.at/mrOW1
WhatsApp:
https://wa.link/cl4v5j
https://wa.link/5ww2e3