04 March 2021
𝐀𝐥𝐩𝐡𝐚 𝐁𝐮𝐲 & 𝐖𝐢𝐧 𝐂𝐚𝐦𝐩𝐚𝐢𝐠𝐧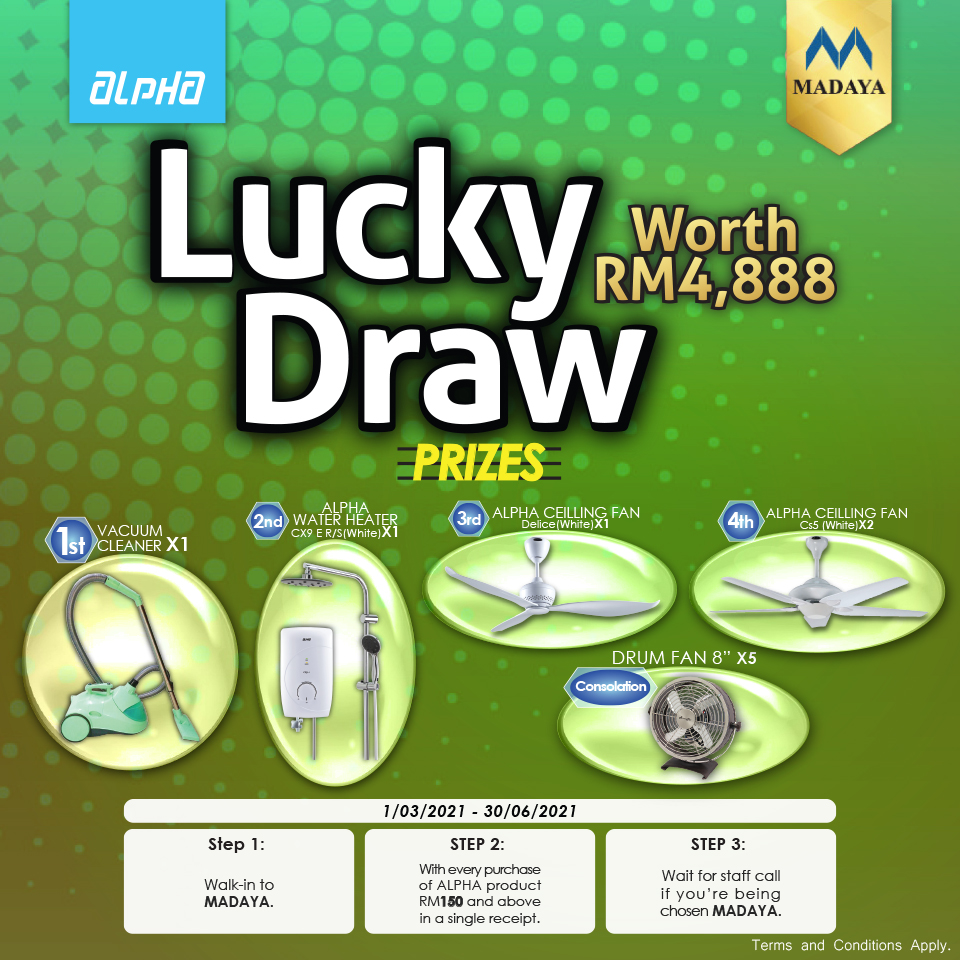 𝐀𝐥𝐩𝐡𝐚 𝐁𝐮𝐲 & 𝐖𝐢𝐧 𝐂𝐚𝐦𝐩𝐚𝐢𝐠𝐧
Stand a chance to win a lucky draw
Which prize will be worth 𝐑𝐌 𝟒,𝟖𝟖𝟖
Just follow the simple steps at below:
Walk-in to 𝐌𝐚𝐝𝐚𝐲𝐚
With every purchase of ALPHA product 𝑹𝑴150 and above in a single receipt
Wait for staff call if you're being chosen 𝐌𝐀𝐃𝐀𝐘𝐀
Don't wait
You can install your favorite #Alpha Products at the lowest price.
So, Tag you friends Now and win a prize together~
#FreeStandardInstallation for some selected alpha products.
𝐀𝐥𝐩𝐡𝐚 𝐁𝐮𝐲 & 𝐖𝐢𝐧 𝐂𝐚𝐦𝐩𝐚𝐢𝐠𝐧
Date: 𝟏.𝟑.𝟐𝟎𝟐𝟏 - 𝟑𝟎.𝟔.𝟐𝟎𝟐𝟏
Address: KTLD, Lot 7760 & 7761, Section 64, Jalan Datuk Abang Abdul Rahim, 93450 Kuching, Sarawak.